FILM HOME PAGE
Films between 1919 & 1939
Films between 1940 & 1949
Films between 1950 & 1959
Films between 1960 & 1969
Films between 1970 & 1979
Films between 1980 & 1984
Films between 1985 & 1989
Films in 1990
Films in 1991
Films in 1992
Films in 1993
Films in 1994
Films in 1995
Films in 1996
Films in 1997
Films in 1998
Films in 1999
Films in 2000
Films in 2001
IMPORTANT & NOTEWORTHY FILMS
FEATURING ASIAN PACIFIC AMERICANS

Films in 1998 (Part 2)
Click HERE for Part 1



RUSH HOUR

(1998)
Directed by Brett Ratner
Cast: Jackie Chan, Chris Tucker, Tom Wilkinson, Elizabeth Peña, Philip Baker Hall, Mark Rolston, Tzi Ma, Rex Linn, Ken Leung, Chris Penn, Julia Hsu, Stephen Blackehart, Stanley DeSantis, Kevin L. Jackson, Jim Jenkins, Manny Perry
New York Times rated it a "6" calling it "lively but routine," Janet Maslin recommends ""Hour" overall, more for Chan's Keaton-esque gymnastics than Tucker's rat-a-tat patter. The LA Times brand it a "7" saying it was "formulaic but funny," Kevin Thomas applauded how "Hour's" script highlighted the stars individual comedic talents, while featuring several moments when they shine together. USA Today gave it a "6" as Mike Clark thought this was little more than "amusing piffle," rehashing 48 Hours' plot with some martial arts garnish, but a watchworthy effort overall. Roger Ebert gave it a "7" conceding that this is an archetypal "wunza movie" (his terminology for the buddy-cop oeuvre) but felt Tucker's nonstop verbosity and Chan's agility elevated it to the top of the genre. Variety gave it an "8" as Joe Leydon predicts that this will be Jackie Chan's biggest hit yet, with enough action to please his fans and enough comedy, courtesy of Tucker, to draw in mainstream crowds. Will this movie open some doors? Read what Jackie thinks about his past, future and current success in the United States?!?!

MULAN

(1998)
Directed by Tony Bancroft and Barry Cook
Cast: Ming-Na Wen, Lea Salonga, Eddie Murphy, B.D. Wong, Donny Osmond, Harvey Fierstein, Jerry Tondo, Gedde Watanabe, Matthew Wilder, James Hong, Miguel Ferrer, Soon-Tek Oh, Freda Foh Shen, Pat Morita, June Foray, Marni Nixon, George Takei, Miriam Margolyes, James Shigeta, Frank Welker, Mary Kay Bergman
Solid entertainment from a new group of Disney animators. The story source is a Chinese fable about a young girl who disguises herself as a man to help her family and her country. When the Huns attack China, a call to arms goes out to every village, and Mulan's father, being the only man in the family, accepts the call. Mulan (voiced by Ming-Na Wen, sung by Lea Salonga) has just made a disastrous appearance at the Matchmaker and decides to challenge society's expectations (being a bride). She steals her father's conscription notice, cuts her hair, and impersonates a man to join the army. She goes to boot camp, learning to fit in with the other soldiers with some help from her sidekick, Mushu, a wise-cracking dragon (voiced by Eddie Murphy). She trains, and soon faces the Huns eye-to-eye to protect her Emperor.
The film is gorgeous to look at, with a superior blend of classic and computer-generated animation. Directors Tony Bancroft and Barry Cook make the best of it: a battle in the snowy mountains is as thrilling as the best Hollywood action films. The menacing Huns are not cute but simple and bad. The wickedness is subtle, not disturbing. The film is not a full-fledged musical, as it has only five songs (the best, "Be a Man," is sung during boot camp). Eddie Murphy is an inspired choice for the comic-relief dragon, but his lines are not as clever as Robin Williams's in Mulan goes right to the top of Disney animated heroines; she has the right stuff. --Doug Thomas
LETHAL WEAPON 4

(1998)
Directed by Richard Donner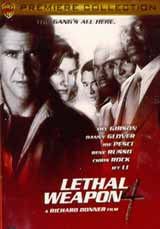 Cast: Mel Gibson, Danny Glover, Joe Pesci, Rene Russo, Chris Rock, Jet Li, Steve Kahan, Kim Chan, Darlene Love, Traci Wolfe, Eddy Ko, Steven Lam, Richard Libertini, Danny Arroyo, Ryan C. Benson, Ray Chang, Jeanne Chin, Phil Hawn, Damon Hines, Jeff Imada, Calvin Jung, Jack Kehler, Dana Lee, Walt G. Ludwig, Raymond Moy, Michiko Nishiwaki, Ebonie Smith, Elizabeth Sung, Mary Ellen Trainor
In the fourth and reportedly final film of the Lethal Weapon series, director Richard Donner reunites with Mel Gibson and Danny Glover, who reprise their roles as Martin Riggs and Roger Murtaugh for one last hurrah in a film that is decidedly better than the third and first chapters.
This time the pair are pitted against Jet Li, who plays the leader of a Chinese organized crime unit. Jet Li, a veteran of hundreds of Hong Kong action films, more than holds his own against the more established team of Gibson, Glover, Renee Russo, and Joe Pesci with his subtle yet strong portrayal of the quietly irrepressible Wah Sing Ku.
As always with the Lethal series, the plot is incredibly simple to follow: someone steals something, someone gets killed, and Murtaugh is reluctantly thrown into the mix while Riggs dives into the case with gleeful aplomb. As with the previous movies, we watch for the sheer action and chemistry alone.
The action sequences throughout the fourth installment are exquisite, from the opening scene involving a flamethrower, a burning building, and a half-naked Murtaugh strutting like a chicken (don't ask, just watch), to the climactic showdown that pays genuine tribute to Jet

Li's masterful martial art skills. As for chemistry, the bond between these characters is so strong by now that you sometimes feel like you're watching a TV series in its sixth season, such is the warm familiarity between the audience and the personalities on the screen. The humor is more fluid than ever, aided immeasurably by the casting of comedian Chris Rock, who like Li does a great job of making his presence known in some memorable verbal tirades that would bring a smile out of the Farrelly brothers. But it's the verbal and emotional jousting between Glover and Gibson that makes this fourth episode especially appealing; both are in peak form with great physical and verbal timing. One can only hope that if this is indeed the last of the Lethal films, that it won't be the last time we see Glover and Gibson together on screen. -- Jeremy Storey
This film, hopefully, will start Jet Li's Hollywood career! The producers and Paramount saw the response that Jet Li received and immediately signed him to a reportedly 3 picture upon reviewing his performances in Lethal Weapon 4. Please note the specifics of his background and future and the bottom of this page.
HUNDRED PERCENT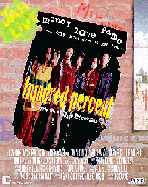 (1998)
Directed by Brett Ratner
Cast: Darion Basco, Dustin Nguyen, Garrett Wang, Keiko Agena, Lindsay Price, Stan Egi, Tamlyn Tomita
Spend three days in the colorful land of Venice Beach, California, where living seems to mean you don't fit in anywhere else.
Isaac (Dustin Nguyen, 21 JumpStreet) has been looking for love all his life when Thaise (Tamlyn Tomita, The Joy Luck Club), full of mystery and attitude, walks right into his boardwalk cafe. Little does either know that Thaise has been followed from New York by her fiance Mingus (Stan Egi, Rising Sun), who desparately wants what Thaise has.
At a Home Grown Yellow Power Party, where the dopest of the dope come to get down, Isaac's friends Slim and Troy also find themselves at turning points in their lives.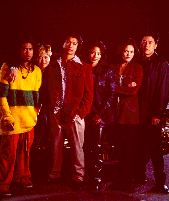 Slim (Darion Basco, The Brady Bunch Movie), along with best pal Casey (newcomer Keiko Agena), is on a spiritual quest for enlightenment, income and an escape from Crankshaft (newcomer Adam Collis), an original gangsta from whom he has won a low-down, badass, don't-mess-wid-me" lowrider.
Troy (Garrett Wang, Star Trek: Voyager), supported by his girlfriend Cleveland (Lindsay Price, Beverly Hills 90210) stands poised on the brink of silver-screen stardom when French auteur director Jean Jacques Baudelaire (Francois Giroday) hires him to star in his latest epic.
Together these friends discover that to find what's missing in their lives sometimes means giving up what seems most important
In our independent filmmakers, a closer and poignant glimpse of life's realities are often seen. Since taking chances is generally not what the big studios do, many times these kind of films are not seen by a wide audience. They do, however, deserve to be seen. Great directors, screenwriters, visionaries, etc. often have started out this way. Successful examples include directors such as Steven Spielberg, Wayne Wang, Spike Lee and the list goes on. Film studios such as Miramax take chances on these creative people because many people want to see something real that they can relate to, instead of the canned storylines that always fill the theaters. If you're interested in watching something close to the heart and soul of the communities' heart, check out this film.
To check out the film's review, please click HERE. Links to the various stars of the film can be located HEREor at HERE.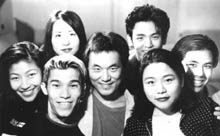 YELLOW

(1998)
Directed by Chris Chan Lee
Cast: Soon Tek Oh, Amy Hill, Emily Kuroda, Sharon Omi, and Charles Chun, Burt Bulos, Michael Chung, Angie Suh, Mia Suh, Lela Lee, John Cho, Jason Tobin, Mary Chen.
This is another film, like the film "hundred percent" above, deserves to be seen. It is not a perfect film, but a passionate film that deserves to be seen by all that want to watch something more than Hollywood's stereotypical images of Asian / Asian Pacific American (during the rare times that they are even seen) communities. So, if you're looking for something good to see, check out this film.
YELLOW is a critically acclaimed drama/comedy about one life-changing night in the lives of eight friends in Los Angeles. A dozen Asian American rock/hip hop bands are on the soundtrack. This is the stylish, upbeat, & hard-hitting AA comedy you've been waiting for. For more information about this independent film, please click HERE
Read what the press has wrote about this picture!
"A different kind of culture shock. The film is fascinating in the way it manages to be both about Korean-American society and about young Gen-Xer's who could be of any race."
-Roger Ebert, CHICAGO SUN-TIMES
"Richly deserves to break out into regular runs. The experience of watching Chris Chan Lee's YELLOW is akin to seeing 'AMERICAN GRAFFITI' for the first time. Exceedingly well-drawn and likable young people. YELLOW packs a terrific punch, a knockout feature."
-Kevin Thomas, LOS ANGELES TIMES
"A caffeinated and pointedly hip slice of Los Angeles."
-Gary Dauphin, THE VILLAGE VOICE
"Burgeoning romances, an off-beat ensemble cast and a question of courage are all in this good-natured teen comedy."
Liam Lacey, TORONTO GLOBE AND MAIL
site design by Asian American Artistry
for any questions regarding the content, please contact Asian American Artistry
Copyright © 1996-2003 - Asian American Artistry - All Rights Reserved.